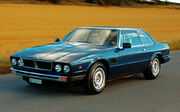 The Maserati Kyalami is an Italian produced sports coupe briefly seen in Gunslinger Girl Book Three (and again in Book Five), as John Doe's personal car. He would often take naps on the car's roof while inebriated, usually accompanied with a black dog.
In the scene depicted on page 20 of Book Three, Doe lies on the Kyalami while declaring to a very young Pinocchio that, owing to his "debt" to Cristiano Savonarola for saving his life, he must become a useful assassin for Savonarola's Padania purposes.
Technical Background (courtesy Wikipedia)
Edit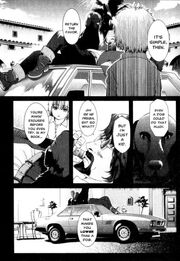 The
Maserati Kyalami
(named after South Africa's
Formula One
circuit
) was a new model rushed into production after
Alessandro de Tomaso
took helm of the company.
De Tomaso, never shy of copying anything good (confer his Deauville, a smoothed-out copy of Jaguar's XJ 6, or his sports car prototype shown at the Turin Salon in 1974, a virtual carbon copy of Fiat's X1/9), took Tom Tjaarda's design of the De Tomaso Longchamp (itself inspired by the Mercedes 450SLC) modified the front and rear end to create a distinctive Maserati feel for the new car. The interior was also upgraded to incorporate classic Maserati elements such the steering wheel and instrumentation.
The Kyalami, a four-seater notchback coupe, was launched at the 1976 Geneva Motor Show and was initially available with Maserati's 4.2 litre V-8 engine (255 hp) and, starting in 1978, with a 4.9 litre-V8 delivering 290 horsepower, both engines coupled with a ZF 5-speed manual transmission or on request a 3-speed automatic. Mechanically the Kyalami was closely related to its contemporary Quattroporte, also offered with the same engines and gearboxes.
All told, 155 Kyalamis were built between 1976 and 1983, although some sources quote 184, 188, and even 210. Due to its rarity very little was written in magazines about the Kyalami. However, direct owner experiences confirmed the fundamental validity of its design, with a well-balanced, stiff chassis offering excellent body control and an agile, very easy to control handling. The performance offered by the big bore 4.9 V8 was also excellent thanks to the abundant power and torque delivered by the engine. Its performance was a notch above all its contemporary competitors; that the Kyalami did not achieve the success it deserved is a sad story of missed opportunities.
Other vehicles seen in Book Two
Edit