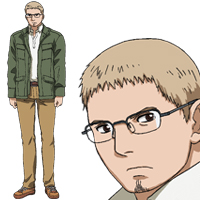 Marco Toni is an agent of Section 2 and Angelica's handler. He suffered an injury to his left eye, which resulted in his suspension from the Criminal Police Central Directorate (DCPP) of the Polizia di Stato.
His friend, Dr. Bianchi, recommended Marco to serve as Angelica's handler. To help Angelica adjust to her new surroundings and all the surgeries, he created a fairy tale titled Il Principe del Regno della Pasta("The Prince of the Land of Pasta") about a prince who ate only pasta. This fascinated his girlfriend at the time, Patricia, who later wrote and published an actual book based on the story.
The conditioning process changed Angelica's personality and effectiveness and her memories could become random: she would remember some events and forget others. This caused Marco to no longer feel any attachment for her, though after her near death he felt regret over how he treated her. After Angelica was allowed back onto the field, he was still somewhat distant from her. Near the end, he reestablished the attachment that he used to have for her. In chapter 77, it appears that he is in charge of a new cyborg. He seems to prefer Steyr weapons as his personal sidearm is a Steyr GB, and Angelica's weapons are the Steyr AUG and her sidearm is a Steyr M9A1 w/tac light.